20 January 2003
Anti-war women protest on Parliament steps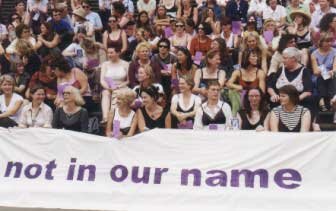 (AAP/Age, January 21 2003)
Women wore bras on the outside of their clothing yesterday to draw attention to their anti-war protest.
More than 150 politicians, community leaders and children, many with underwear over their clothing, took part in the all-women protest against a war with Iraq on the steps of Parliament House in Melbourne.
Kerry Armstrong, star of ABC television dramas MDA and SeaChange, wore a bright purple bra over her clothing and said the women's display was a deliberate ploy to grab attention to the cause. She said an anti-war protest held in Melbourne before Christmas had attracted more than 40,000 protesters but failed to draw media attention. "We knew this was one way of taking the mickey out of the press coming to bushfires but not to peace rallies," Armstrong said.
Former Democrats leader Natasha Stott Despoja, who received loud applause when she joined the group wearing a T-shirt emblazoned with the message "No War", said protest was fundamentally important.
"I believe Australians don't want war, I certainly don't want war," she said. "I'm prepared to keep protesting and do whatever it takes to ensure we have a strong anti-war movement."
Senator Stott Despoja - who wore her bra in the traditional concealed manner - said the all-female protest recognised the impact any war would have on the lives of women who, along with children, were often the first victims of conflict.
Armstrong was elated by the number of protesters. "What's most pleasing is the people coming up the stairs from the city and you see them breaking out in a smile," she said.
Other protesters included actors Rebecca Gibney and Annie Phelan - both with their bras on the outside - and former Victorian premier Joan Kirner.