Melbourne photos
14-16 February: Photos from around the world (Sydney Morning Herald)

From New York to Melbourne, Protest Against War on Iraq
By ROBERT D. McFADDEN (New York Times, February 16, 2003)
Confronting America's countdown to war, throngs of chanting, placard-waving demonstrators converged on New York and scores of cities across the United States, Europe and Asia yesterday in a global daisy chain of largely peaceful protests against the Bush administration's threatened invasion of Iraq.

Three years after vast crowds turned out around the world to celebrate the new millennium, millions gathered again yesterday in a darker mood of impending conflict, forming a patchwork of demonstrations that together, organizers said, made up the largest, most diverse peace protest since the Vietnam War.
On a wintry day in New York, huge crowds, prohibited by a court order from marching, rallied within sight of the United Nations amid heavy security. They raised banners of patriotism and dissent, sounded the hymns of a broad new antiwar movement and heard speakers denounce what they called President Bush's rush to war, while offering no sympathy for Iraq's dictator, Saddam Hussein.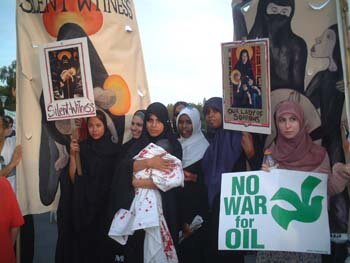 "The World Says No to War," proclaimed a huge banner over a stage on First Avenue near 51st Street, the focal point of crowds that filled the avenue from 49th Street to 72nd Street and spilled over into side streets and to Second, Third and Lexington Avenues, where thousands more were halted at police barricades, far from the sights and sounds of the demonstration.

Crowd estimates are often little more than politically tinged guesses. The police commissioner, Raymond W. Kelly, put the crowd at about 100,000, while the organizers said 400,000 people attended. Given the sea of faces extending more than a mile up First Avenue and the ancillary crowds that were prevented from joining them, it seemed that something in between was probable.

There were similar though smaller demonstrations in Philadelphia, Chicago, Seattle, San Diego, Sacramento, Miami, Detroit, Milwaukee and scores of other American cities, organized under the umbrella of United for Peace and Justice, a coalition of 120 organizations.

In London, 500,000 to 750,000 people rallied in Hyde Park, while 200,000 gathered at the Brandenburg Gate in Berlin and hundreds of thousands more protested in Paris, Amsterdam, Brussels, Barcelona, Rome, Melbourne, Cape Town, Johannesburg, Auckland, Seoul, Tokyo and Manila. Many contended that America's interest in Iraq had more to do with oil than with disarming a dangerous tyrant. [Page 20.]

Protests unfolded in more than 350 cities around the world some drawing hundreds of thousands, others only a few hundred and for the most part the dissents were peaceful. The police in Athens fired tear gas and clashed with demonstrators who threw a gasoline bomb, but no serious injuries were reported.

In New York, the police reported more than 100 arrests, mostly for disorderly conduct, and said that a deputy inspector had been assaulted and taken to a hospital and that two horses were hurt. But at day's end, Commissioner Kelly said: "I think it went well. For the number of people here, it was orderly. The vast majority of people were cooperative."

The demonstrations were the culmination of a global campaign that has been building for weeks in opposition to the growing threat of war, with thousands marching, rallying, signing petitions, raising money, publishing articles and using the Internet to enlist a diverse coalition of citizens and celebrities.

Unlike the stereotypically scruffy, pot-smoking, flag-burning anarchists of the Vietnam era, yesterday's protesters came from a wide range of the political spectrum: college students, middle-aged couples, families with small children, older people who had marched for civil rights, and groups representing labor, the environment and religious, business and civic organizations.

President Bush was the chief villain, a casualty of what some called an obsession with his father's Persian Gulf War in 1991 and its failure to oust Saddam Hussein. Other targets were Vice President Dick Cheney; Secretary of Defense Donald H. Rumsfeld and Secretary of State Colin L. Powell.

"I came to go to the rally and be a part of a global voice against going to war against Iraq again," said Mary Baxter, 31, employed by a software company in Cambridge, Mass., and whose quiet solemnity seemed typical. "I feel the current administration has been escalating and destabilizing things. I'm disappointed that Colin Powell is going along with Bush, Cheney and the rest of them."

Angela Tsang, 21, a Barnard College student who was part of a contingent called the Columbia University Antiwar Coalition, said her group believed that an American attack on Iraq would achieve nothing but death and injustice.

"We see the war against Iraq as unjust," she said. "We don't believe Bush's rhetoric. I think he's not acting in the best interest of the American people. We're risking the lives of hundreds of American soldiers and an untold number of lives in the Middle East, and a war will not solve the problem of terrorism. It disgusts me. I can't accept that."

Beyond criticizing Mr. Bush and his lieutenants, many protesters offered nuanced arguments about the conflict, agreeing that President Hussein should not be allowed to possess weapons of mass destruction, but insisting that pre-emptive military strikes were morally bankrupt and would harm the economy, deepen the divisions between America and the Arab world and undermine United States alliances in Europe and Asia.

It was a hard day for a rally in New York. The ground was frozen and the protesters were buttoned to the neck against the 25-degree cold and an icy wind that scythed off the East River and scorched the face. But the crowd was enthusiastic: cheering speakers, chanting antiwar slogans and raising banners that promoted other agendas as well, including "Free Palestine" and "Free Medical Marijuana."

They were joined by several celebrities, including Bishop Desmond Tutu of South Africa, the folk singer Pete Seeger and the actors Danny Glover, Susan Sarandon and Harry Belafonte. American flags and other symbols of patriotism waved in the crowds.

Children from Public School 3 brought a 15-foot balloon of the earth. It was punctured going under a bridge, but they patched it with duct tape. "We're trying to fix the world," 10-year-old Sonia Santzoord deadpanned.

The singer Richie Havens led off the proceedings with a rendition of "Freedom," the song he performed 34 years ago on Max Yasgur's farm for the Woodstock Festival.

"Peace! Peace! Peace!" Bishop Tutu, the 71-year-old veteran of the peace movement, declared. "Let America listen to the rest of the world and the rest of the world is saying, `Give the inspectors time.' "
Martin Luther King III told the shoulder-to-shoulder crowd, "Just because you have the biggest gun does not mean you must use it."

One face in the crowd belonged to Michael Callandrillo, 53, a teacher from Dover, N.J. "I've been to demonstrations and rallies all over the country, and some have had a nasty feel to them," he said. "Others have had a lackluster feeling. But this one feels just right. People are informed, people are passionate. People don't want trouble. They just want to be heard."
All morning, trains and buses had converged on Midtown Manhattan, disgorging groups from New Jersey, Connecticut, Massachusetts, Vermont, Pennsylvania, New York, Maryland and other states. Walking crosstown to the rally, tens of thousands of would-be protesters encountered a maze of barricades and a huge police presence blocking their way. Banging drums, chanting "Whose streets? Our streets," the surging crowds spilled off sidewalks onto jammed streets and avenues on the East Side. Some occasionally clashed with police officers.

Under a federal court order, the demonstrators in New York were prohibited from staging a march, which city officials had said might be dangerous to the protesters, a notion that drew scoffs from the imperiled. Instead, they were limited to a rally behind barricades, a more pacific, less powerful expression of protest, but one that made matters easier for the police.
The police had set up a series of blocklong pens along the mile of First Avenue set aside for the rally. The pens were filled by noon when the rally began, and thousands of demonstrators were caught behind barricades on East Side avenues and streets and were either delayed or unable to reach the rally.

Frustrations grew and tempers flared. Dozens were arrested on disorderly conduct charges when they tried to breach the police lines at Second Avenue between 53rd and 54th Streets, where many in the crowd were waving Palestinian flags and chanting "Free Palestine."
At Third Avenue and 52nd Street, a rearing horse threw a mounted police officer when a demonstrator set off firecrackers. No one was hurt, but several demonstrators were swiftly wrestled to the ground and arrested.

Most of the demonstrators were focused on Bush administration war plans and frustrated by the seemingly implacable move toward conflict, the mobilization and movement of naval flotillas, aircraft and thousands of troops into the Persian Gulf region in recent weeks, and the daily pronouncements from Washington about war preparations and the urgency of invading Iraq.
The police did not disclose details of their security operation, but did say that 5,000 officers were involved. It was mounted during one of the most intense national security alerts since the attacks of 9/11. In addition to the thousands of uniformed officers in the streets, it included sharp-shooters on rooftops, mounted officers, radiation detectors and other hazardous-materials detection and decontamination equipment, bomb-sniffing dogs and plainclothes officers mingling in the crowds.

It appeared that the police had not anticipated such a large crowd. At 1:45 p.m., Chief Joseph J. Esposito, the highest-ranking uniformed officer, ordered the department's highest mobilization, a rare measure that brought 1,000 officers from precincts and other commands around town. The alert was last used in November 2001, when American Airlines Flight 587 crashed in the Rockaways.
Copyright 2003 The New York Times Company