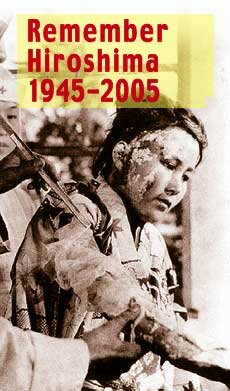 Nuclear issues
facts sheets
? 1. Nuclear weapons
? 2. Hiroshima & Nagasaki
? 3. Missile defence
? 4. Depleted uranium
Hiroshima links

 View Iraq Fact sheets

International Association of Lawyers Against Nuclear Arms (IALANA)
Bulletin of the Atomic Scientists
World Information Service on Energy

Remember Hiroshima and Nagasaki
The United States military dropped an atomic bomb on Hiroshima at 8.15am on 6 August 1945. Another atomic bomb was dropped on the city of Nagasaki at 11.02am on 9 August 1945. 
In Hiroshima, 90,000 people were killed immediately. In Nagasaki, the nuclear blast instantly killed 40,000 people. By the end of 1945, over 145,000 people had died in Hiroshima, and another 75,000 people had died in Nagasaki. Tens of thousands more suffered serious injuries.
Deaths among survivors of the bombings have continued over the years due primarily to the effects of radiation exposure. In Hiroshima and , peace museums document the horrors of these events.
After the invasion of Iraq, weapons of mass destruction are on the agenda, and the first item must be the abolition of all nuclear weapons.
On the 60th anniversary of this act of nuclear terrorism, people around the world are saying ?Never Again!? They are calling for nuclear disarmament by all countries that maintain stockpiles of nuclear weapons.
Washington and London should start to eliminate their weapons of mass destruction, rather than waging wars on impoverished countries like Iraq, and using Depleted Uranium weapons which pollute the environment and threaten the health of soldiers and civilians alike..
Australia should support the strengthening of , the creation of a Nuclear Weapons Convention and other international agreements to abolish nuclear, chemical and biological weapons.
We should end the mining of uranium that fuels nuclear proliferation, and close the US military bases in Australia that support nuclear warfare.
Nuclear Non-Proliferation Treaty (NPT) Conference May 2005
The Non-Proliferation Treaty is the most comprehensive agreement on nuclear disarmament, so far, signed by most countries in the world. It sets out the responsibilities of the declared nuclear weapons states and other non-nuclear states to prevent nuclear proliferation and work towards comprehensive disarmament.
The next Non-Proliferation Treaty Review Conference will take place in New York from 2 - 27 May 2005. The Conference will examine the implementation of the outcomes of the 2000 Review Conference: the  ?unequivocal undertaking? by the nuclear weapons states to accomplish the total elimination of nuclear weapons, and for the practical application of the ´13 steps´ leading to nuclear disarmament.
The demand for the implementation of commitments made in the Treaty is gathering momentum, due to the increasing concerns related to the danger of the use of nuclear arms and of their proliferation. However, the nuclear weapons states have been ignoring this appeal. Above all, the US is trying to invalidate the ?unequivocal undertaking? towards the abolition of nuclear weapons.
You can download a for further information on the May 2005 NPT conference.


Events to mark Hiroshima Day 2005
Sunday 7 August, 1pm Hiroshima Never Again Rally and march from State Library.
Sunday 7 August, 2-4pm Concert with Japanese drummers and artists at Federation square. Hiroshima photo display - Details to follow. Further information: Japanese for Peace or email
Saturday August 6 Sunday August 7 Conference ?Nuclear Terror: 60 Years On? Medical Association for the Prevention of War National Conference. Further information and registration
Monday 18 July, 7pm: DVD screening and discussion "Invisible War: Depleted uranium and the politics of radiation", 2001 award-winning documentary about the horrific use of depleted uranium munitions by the United States at Sahara Cafe, 627 Sydney Road Brunswick. Moreland Peace Group .
Monday 18 July 2005. ' Peace Works Unlimited presents 'food for thought. 'I''ll have what she's having' is the discussion topic at its
monthly intimate Peace Meal, 6-30 p.m. at 21 Coxon Parade, North Geelong. Three courses $20. Bookings essential on
July 30-31: Advance Australia Fair: Building Sustainability, Justice and Peace at Melbourne Trades Hall, 54 Victoria St, Carlton South. More than ever, workers rights, the environment, democratic institutions, indigenous peoples, women and students are coming under pressure from neo-conservative economic and social policies, and war. Only by coming together can we support and strengthen the movements that we are a part of, and start to turn the tide.Visit www.nowwethepeople.org to register.
Saturday July 30, 7pm: Latin American Solidarity Dinner Dance, Maritime Union Hall, 54 Ireland St. West-Melbourne. All Proceeds goes to Latin America Solidarity Gathering organising fund. $25, $20 Conc. (Dinner/Dance), $15, $10 Conc. (Dance). Not BYO Booking essential - Organised by Latin American Solidarity Gathering organising committee.
Wednesday, 3 August. Victorian Branch: 'Wednesday Night at the New International Bookshop' Program (AFS Event): 'Australia-Indonesia Relations'. Fresh from consultant status at the Aceh peace talks in Helsinki, Deakin University Indonesian Studies scholar Damien Kingsbury assesses relations between Australia and our nearest neighbour, with a response from former diplomat and foreign correspondent Bruce Grant. 6 for 6:30pm to 8pm, New International Bookshop Centre, Trades Hall (Victoria Street Entrance), Cnr Lygon and Victoria Streets, Carlton. AFS members $5, non-members $6,  concession $2.

 FULL DIARY LISTING